Tsen / ツェン
No. 0024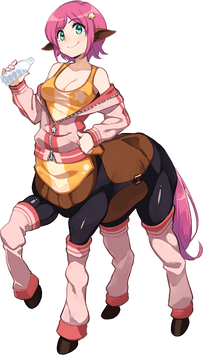 | | | | |
| --- | --- | --- | --- |
| Max Lv. | 30 / 60 | Resource Use | |
| Species | Centaur (Racing Subsp.) | Seiyuu | Naruse Mia |
Stats
| Stats | Base | Lv. 30 | ★ | ★★ | ★★★ | 100% ♥ |
| --- | --- | --- | --- | --- | --- | --- |
| HP | 262 | 417 | 470 | 523 | 576 | +84 |
| AGI | 39 | 62 | 69 | 77 | 84 | +11 |
| ATK | 255 | 406 | 458 | 510 | 562 | +73 |
| DEF | 131 | 209 | 235 | 262 | 288 | +29 |
Skills
| | |
| --- | --- |
| Long Talk | Attack at 1 enemy 2 times at 0.7x power |
| None | |
| None | |
Introduction
Event
Japanese
English
Notes
Introduction

キミが世帯主なんだね!

ボクはケンタウロス族競走馬種のツェンって言うんだ! 騎士としてはまだまだ未熟だけど, 主くんに忠誠を誓うよ!

You are the householder!

I am Tsen the centaur of the racehorse species! I'm still immature as a knight, but from this day, I swear loyalty and allegiance to my master!

Tsen uses ぼく(boku) when referring to herself and uses きみ(kimi) when addressing others. These are both pronouns used by mostly boys in the Japanese language, so she is most likely a tomboy.
Intro (Memorial)

キミに見られるのは, こそばゆいかな......
I'll get ticklish if you look at me like that...
Home
Event
Japanese
English
Notes
Home


どうしたの?
どっ、どこを触ってるんだよぉ
ボクがマッサージしてあげよっか?
それって、楽しいのかな?

What is it?
W-where are you touching?
Do you want me to give you a massage?
Is it fun to do that?

Home (≥ 10 times)

いくら君でも、ダメなのはダメ
Even if it's you, no is still no.
Profile

お待たせ。管理表を持ってきたよ
Thanks for waiting! I brought the management list.
Refresh

ちょっとーこの辺りを駆けてくるね~
Could you please turn off the light on your way out?
Organization

待ってたよー
Been waiting.
Fusion

い、いきなり言われてもー困るよ~…
I-if you say it so suddenly I'll get embarrassed...
Limit Break

この体でも~…主くんは好きになってくれるのかな…?
With a body like this, will master be able to love me...?
Job (Start)

任せて!ボクの名にかけて、この使命は果たしてみせるよ!
Leave it to me! I hereby swear in my name that this mission will be accomplished succesfully!
Job (End)

終わったよ!キミの期待に応えられたかな?
Finished! Did we meet your expectations?
Meal

いただきますっ
Let's eat.
Request Complete

Outing
Event
Japanese
English
Notes
Outing (Begin)

お出かけに出発だー
Heading out for the outing!
Outing (End)

ただいま帰還しました。なーんてっ
We're back! Just kidding.
This line is usually used for military purposes, hence Tsen saying she's kidding.
Item Pickup

これ、持っていってもいいのかな……?
Is it okay if I take this...?
Encounter

ボクの邪魔はさせないんだから!
I won't let you get in my way!
Encounter (Start)

騎士として負けられないよね
As a knight I can't allow myself to be defeated.
Encounter (Victory)

みんなの勝利だね
This is everyone's victory.
Encounter
(Total Victory)

今だけは、はしゃいじゃうね
We may celebrate just this once.
Encounter (Defeat)

ボクのせいで・・・負けちゃった・・・
It's my fault...that we lost...
Attack

話し合おうよ

ボクの話を聴いて!

Let's talk it over.

Listen to me!

Skill

説得してみせる!
I'll try to persuade them!
Cheer (Attack)

みんなの想いが力になる!
Everyone's feelings will become my strength!
Cheer (Defend)

これならまだ戦えるよ!
If it's just this I can keep fighting!
Hit

なんで...

くっ...

Why...?

Kuu...

Hit (Critical)

くっ、でもまだ...!
Ku-...I can keep going...!
KO

ボクは…騎士なのに…
Even though...I'm a knight...
Care
Event
Japanese
English
Notes
Care (Begin)

うふっ・・・ボクで・・・いいんだ・・・
Hehe...it's fine...by me...
Touch (Good)
Affection < 30%

うんっ!良い感じだよ

わかってるねぇ

Yeah! That feels good.

You get it, right?

Touch (Good)
Affection ≥ 30%

続けてもらえる?

疲れが吹き飛びそう・・・

Can you continue?

This'll blow-off my fatigue...

Touch (Good)
Affection ≥ 60%

ここまでしてくれるなんて・・・

ボク・・・すっごく幸せ・・・

Going this far for me...

I am...so happy...

Touch (Chest)
Affection < 30%

悪くは、ないけどさ

も、もういいかなぁ...?

It's not bad, but...

A-are you done?

Touch (Chest)
Affection ≥ 30%

こんな事していいのかなぁ

ふひゅぅ・・・恥ずかしいよぉ・・・

You really want to do these things.

Fuhyuu...it's embarrassing...

Touch (Chest)
Affection ≥ 60%

キミって・・・大胆なんだね

ん・・・変な気持ちになりそう・・・

You're pretty bold...you know?

Mm...I'm feeling strange from this...

Touch (Bad)

そっそこは違うよぉ!

あん…っ んっ…ふ

N-not there!

Anh... N...fu
Hourly Notifications
| Time | Japanese | English | Notes |
| --- | --- | --- | --- |
| 00:00 | あれ?まだ起きてるんだ | Huh? You're still awake. | |
| 01:00 | 夜更かしは体に悪いよ~。それとも・・・夜型? | Staying up late is bad for your body~. Or...are you the night type? | |
| 02:00 | ボクは朝早いから・・・ふわぁ・・・ぁぁ・・・そろそろ・・・ | I have to wake up early, so...fuwaa....aaa....it's almost time... | |
| 03:00 | 主くぅん・・・うひひ・・・ボク、カッコいい・・・むにゃむにゃ・・・ | Master...fuhehe...I'm so cool...zZz zZz... | |
| 04:00 | いざぁ・・・尋常に・・・勝負ぅ・・・むにゃむにゃ・・・ | Okay...let's have a...fair match...zZz zZz... | |
| 05:00 | 朝だー!主くん、一緒に朝駆けしよう! | It's morning! Master, let's go for a morning run. | |
| 06:00 | 楽しかったぁ!誰も居ない所を走るって、気持いいね! | That was so fun! Running when no one's around feels great! | |
| 07:00 | 朝のシャワーで気分スッキリ!キミもさっぱりしたらどう? | The morning shower sure is refreshing! What about you? Feeling refreshed yet? | |
| 08:00 | 採れたての野菜っておいしー! | These freshly taken vegetables are so deeeelicious! | |
| 09:00 | 今日は、外出の予定とか無いの? | We don't have plans to go out today? | |
| 10:00 | 外に出るのなら、ボクが足になるんだけどなぁ | I could become your feet if you become tired outside, you know? | |
| 11:00 | き、キミと二人きりになりたいわけじゃないよ・・・ホントだよ・・・? | I-i mean, it's not like I want to be alone with you... | |
| 12:00 | ぷはぁ・・・ここでの食事って、天国だよねぇ・・・! | Hhaahh...the meals here feel like heaven... | |
| 13:00 | ね、ねぇ?商店街に行きたかったり、しない? | He-Hey, if I wanted to go to the shopping district, would we go? | |
| 14:00 | うずうず・・・うずうずぅ・・・ | (Restless)...(Restless)... | |
| 15:00 | あー!まだ動き足りないよぉ! | Aah! We aren't moving enough! | |
| 16:00 | ボクって競走馬だから、運動量が足りないと、うずうずするんだよね | Since I'm a racehorse I have to keep moving or I'll grow restless. | |
| 17:00 | 今のままでも、立派な騎士になれるのかなぁ・・・ | I wonder if I'll be able to become a respectable knight if I stay like this... | |
| 18:00 | 立派な騎士に・・・一人前の騎士にー・・・んんー・・・ | In order to be a respectable knight...to become a full-fledged knight...ummm... | |
| 19:00 | はぅぅぅぅ・・・採れたて野菜で、嫌なこと全部忘れちゃうよ~・・・♡ | Haaaah...these fresh vegetables help me to forget all the bad things...♡ | |
| 20:00 | 主くん、キミのおかげでまた元気になったよ | Master, thanks to you I'm feeling better now! | |
| 21:00 | 心機一転!明日からも頑張らなくちゃね! | I'm overflowed with energy! I have to do my best from tomorrow on! | |
| 22:00 | キミはもう…お風呂に入ったの? | Have you taken your bath already? | |
| 23:00 | 今日も1日お疲れ様。迷惑、掛けていなかったらいいな | Thank you for your hard work today. What a shame, I wish it wasn't over. | |
Character
Edit
Appearance
Edit
Personality
Edit