Shire / シーレー
No. 0026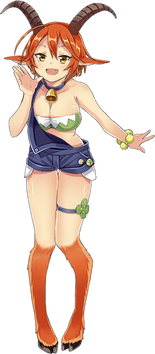 | | | | |
| --- | --- | --- | --- |
| Max Lv. | 30 / 60 | Resource Use | |
| Species | Satyros | Seiyuu | Ogasawara Saki |
Stats
| Stats | Base | Lv. 30 | ★ | ★★ | ★★★ | 100% ♥ |
| --- | --- | --- | --- | --- | --- | --- |
| HP | 220 | 350 | 395 | 440 | 484 | +55 |
| AGI | 63 | 101 | 114 | 127 | 139 | +32 |
| ATK | 248 | 394 | 445 | 495 | 545 | +71 |
| DEF | 124 | 197 | 222 | 247 | 272 | +39 |
Skills
| | |
| --- | --- |
| Householder Boast | Attack 1 enemy at 1.5x power |
| None | |
| None | |
Introduction
Event
Japanese
English
Notes
Introduction

オレはサテュロス族のシーレーだ。

なあ, ここに来たついでに質問があるんだけど, エロいことするだけで禁則事項に引っかかるってマジか? くそー! 男も女も食い放題だと思ったのにー!

I'm Shire of the Satyrs.

Hey, I had a question to ask before I came here, how badly would I be punished if I started acting erotic around the house? Damn it! I thought it was gonna be a free-for-all of men and women here for me to choose!

Shire is assumed to be either bisexual or pansexual, not caring whether her partner is male or female.
Intro (Memorial)

別に隠してるわけじゃねえけとさ......
This isn't the only thing I'm hiding......
Home
| Event | Japanese | English | Notes |
| --- | --- | --- | --- |
| Home | | | |
| Home (≥ 10 times) | | | |
| Profile | | | |
| Refresh | | | |
| Organization | | | |
| Fusion | | | |
| Limit Break | | | |
| Job (Start) | | | |
| Job (End) | | | |
| Meal | | | |
| Request Complete | | | |
Outing
Event
Japanese
English
Notes
Outing (Begin)

Outing (End)

Item Pickup

Encounter

Encounter (Start)

Encounter (Victory)

Encounter
(Total Victory)

Encounter (Defeat)

Attack

Skill

Cheer (Attack)

Cheer (Defend)

Hit

Hit (Critical)

KO

Care
Event
Japanese
English
Notes
Care (Begin)

Touch (Good)
Affection < 30%

Touch (Good)
Affection ≥ 30%

Touch (Good)
Affection ≥ 60%

Touch (Chest)
Affection < 30%

Touch (Chest)
Affection ≥ 30%

Touch (Chest)
Affection ≥ 60%

Touch (Bad)

Hourly Notifications
| Time | Japanese | English | Notes |
| --- | --- | --- | --- |
| 00:00 | | | |
| 01:00 | | | |
| 02:00 | | | |
| 03:00 | | | |
| 04:00 | | | |
| 05:00 | | | |
| 06:00 | | | |
| 07:00 | | | |
| 08:00 | | | |
| 09:00 | | | |
| 10:00 | | | |
| 11:00 | | | |
| 12:00 | | | |
| 13:00 | | | |
| 14:00 | | | |
| 15:00 | | | |
| 16:00 | | | |
| 17:00 | | | |
| 18:00 | | | |
| 19:00 | | | |
| 20:00 | | | |
| 21:00 | | | |
| 22:00 | | | |
| 23:00 | | | |
Character
Edit
Appearance
Edit
Personality
Edit