Ruka / ルカ
No. 0015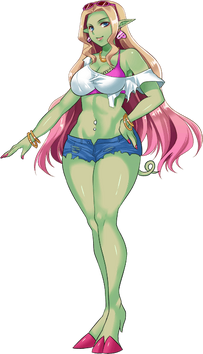 | | | | |
| --- | --- | --- | --- |
| Max Lv. | 20 / 50 | Resource Use | |
| Species | Orc | Seiyuu | Okubo Aiko |
Stats
| Stats | Base | Lv. 20 | ★ | ★★ | ★★★ | 100% ♥ |
| --- | --- | --- | --- | --- | --- | --- |
| HP | 173 | 241 | 276 | 311 | 346 | +41 |
| AGI | 36 | 50 | 58 | 65 | 72 | +24 |
| ATK | 130 | 181 | 207 | 234 | 260 | +43 |
| DEF | 87 | 121 | 138 | 156 | 173 | +24 |
Skills
| | |
| --- | --- |
| None | |
| None | |
| Bewitching Guts | Raises Devil type Attack by 25% |
Introduction
Event
Japanese
English
Notes
Introduction

ちょべりばー!

アンタが世帯主なんて, マジ勘弁なんですけどー。え? アタシは才ーク族のルカだけど? ていうか, マジでここに住むの?

This is the worst!

Pardon me, but are you the host? Huh? Do you not know that I am Ruka the Orc? I mean do I seriously have to live here?

Intro (Memorial)

ちょっと。プライバシーの侵害なんですけどー?
Hold on. Don't you know this is a breech of privacy?
Home
| Event | Japanese | English | Notes |
| --- | --- | --- | --- |
| Home | | | |
| Home (≥ 10 times) | | | |
| Profile | | | |
| Refresh | | | |
| Organization | | | |
| Fusion | | | |
| Limit Break | | | |
| Job (Start) | | | |
| Job (End) | | | |
| Meal | | | |
| Request Complete | | | |
Outing
Event
Japanese
English
Notes
Outing (Begin)

Outing (End)

Item Pickup

Encounter

Encounter (Start)

Encounter (Victory)

Encounter
(Total Victory)

Encounter (Defeat)

Attack

Skill

Cheer (Attack)

Cheer (Defend)

Hit

Hit (Critical)

KO

Care
Event
Japanese
English
Notes
Care (Begin)

Touch (Good)
Affection < 30%

Touch (Good)
Affection ≥ 30%

Touch (Good)
Affection ≥ 60%

Touch (Chest)
Affection < 30%

Touch (Chest)
Affection ≥ 30%

Touch (Chest)
Affection ≥ 60%

Touch (Bad)

Hourly Notifications
| Time | Japanese | English | Notes |
| --- | --- | --- | --- |
| 00:00 | | | |
| 01:00 | | | |
| 02:00 | | | |
| 03:00 | | | |
| 04:00 | | | |
| 05:00 | | | |
| 06:00 | | | |
| 07:00 | | | |
| 08:00 | | | |
| 09:00 | | | |
| 10:00 | | | |
| 11:00 | | | |
| 12:00 | | | |
| 13:00 | | | |
| 14:00 | | | |
| 15:00 | | | |
| 16:00 | | | |
| 17:00 | | | |
| 18:00 | | | |
| 19:00 | | | |
| 20:00 | | | |
| 21:00 | | | |
| 22:00 | | | |
| 23:00 | | | |
Character
Edit
Appearance
Edit
Personality
Edit