Qukuru / ククル
No. 0012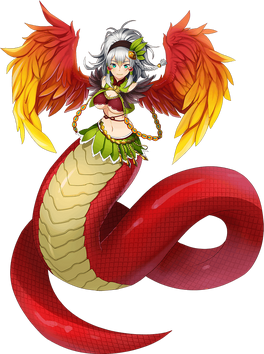 | | | | |
| --- | --- | --- | --- |
| Max Lv. | 20 / 50 | Resource Use | |
| Species | Quetzalcoatl | Seiyuu | Matoba Kae |
Stats
| Stats | Base | Lv. 20 | ★ | ★★ | ★★★ | 100% ♥ |
| --- | --- | --- | --- | --- | --- | --- |
| HP | 202 | 281 | 322 | 363 | 404 | +41 |
| AGI | 42 | 59 | 67 | 76 | 84 | +24 |
| ATK | 152 | 211 | 242 | 273 | 303 | +43 |
| DEF | 101 | 141 | 161 | 182 | 202 | +24 |
Skills
| | |
| --- | --- |
| None | |
| None | |
| Exhilarating Step | Raises Cool type Agility by 25% |
Introduction
Event
Japanese
English
Notes
Introduction

我はケツァルコアトル族のククルだ。

この家には祭壇がないようだが, どうなっておる?

貴様が司祭として我を祭るのであれば, 繁栄と息の日々を約束しよう。

We are Kukuru of the proud Quetzacoatl race.

It seems there is no altar in this house, and who may I fault for that?

We had all manner of different priests who would enshrine us and dedicate their day-to-day meditation and reflections…. Sigh….

Intro (Memorial)

ほほう, 神の歴史を覗き見るか。
Hohou, you wish to peek at the history of a God then.
Qukuru pictures herself and the rest of her race as gods, so she's a little conceited.
Home
| Event | Japanese | English | Notes |
| --- | --- | --- | --- |
| Home | | | |
| Home (≥ 10 times) | | | |
| Profile | | | |
| Refresh | | | |
| Organization | | | |
| Fusion | | | |
| Limit Break | | | |
| Job (Start) | | | |
| Job (End) | | | |
| Meal | | | |
| Request Complete | | | |
Outing
Event
Japanese
English
Notes
Outing (Begin)

Outing (End)

Item Pickup

Encounter

Encounter (Start)

Encounter (Victory)

Encounter
(Total Victory)

Encounter (Defeat)

Attack

Skill

Cheer (Attack)

Cheer (Defend)

Hit

Hit (Critical)

KO

Care
Event
Japanese
English
Notes
Care (Begin)

Touch (Good)
Affection < 30%

Touch (Good)
Affection ≥ 30%

Touch (Good)
Affection ≥ 60%

Touch (Chest)
Affection < 30%

Touch (Chest)
Affection ≥ 30%

Touch (Chest)
Affection ≥ 60%

Touch (Bad)

Hourly Notifications
| Time | Japanese | English | Notes |
| --- | --- | --- | --- |
| 00:00 | | | |
| 01:00 | | | |
| 02:00 | | | |
| 03:00 | | | |
| 04:00 | | | |
| 05:00 | | | |
| 06:00 | | | |
| 07:00 | | | |
| 08:00 | | | |
| 09:00 | | | |
| 10:00 | | | |
| 11:00 | | | |
| 12:00 | | | |
| 13:00 | | | |
| 14:00 | | | |
| 15:00 | | | |
| 16:00 | | | |
| 17:00 | | | |
| 18:00 | | | |
| 19:00 | | | |
| 20:00 | | | |
| 21:00 | | | |
| 22:00 | | | |
| 23:00 | | | |
Character
Edit
Appearance
Edit
Personality
Edit