Kura / クーラ
No. 0052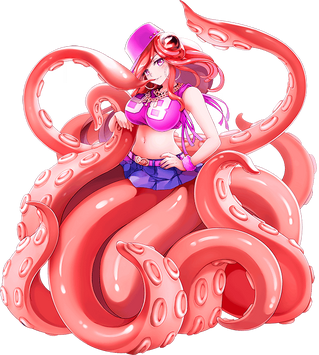 | | | | |
| --- | --- | --- | --- |
| Max Lv. | 40 / 70 | Resource Use | 140 |
| Species | Kraken | Seiyuu | Okubo Chika |
Stats
| Stats | Base | Lv. 40 | ★ | ★★ | ★★★ | 100% ♥ |
| --- | --- | --- | --- | --- | --- | --- |
| HP | 475 | 851 | 948 | 1,044 | 1,140 | +182 |
| AGI | 83 | 148 | 165 | 182 | 198 | +46 |
| ATK | 238 | 426 | 474 | 522 | 570 | +110 |
| DEF | 198 | 355 | 395 | 435 | 475 | +119 |
Skills
| | |
| --- | --- |
| None | |
| おイタはあかんで~ | Reduces incoming damage by 25% |
| Super Appeal | Taunts two enemies |
Introduction
| Event | Japanese | English | Notes |
| --- | --- | --- | --- |
| Introduction | | | |
| Intro (Memorial) | | | |
Home
| Event | Japanese | English | Notes |
| --- | --- | --- | --- |
| Home | | | |
| Home (≥ 10 times) | | | |
| Profile | | | |
| Refresh | | | |
| Organization | | | |
| Fusion | | | |
| Limit Break | | | |
| Job (Start) | | | |
| Job (End) | | | |
| Meal | | | |
| Request Complete | | | |
Outing
Event
Japanese
English
Notes
Outing (Begin)

Outing (End)

Item Pickup

Encounter

Encounter (Start)

Encounter (Victory)

Encounter
(Total Victory)

Encounter (Defeat)

Attack

Skill

Cheer (Attack)

Cheer (Defend)

Hit

Hit (Critical)

KO

Care
Event
Japanese
English
Notes
Care (Begin)

Touch (Good)
Affection < 30%

Touch (Good)
Affection ≥ 30%

Touch (Good)
Affection ≥ 60%

Touch (Chest)
Affection < 30%

Touch (Chest)
Affection ≥ 30%

Touch (Chest)
Affection ≥ 60%

Touch (Bad)

Hourly Notifications
| Time | Japanese | English | Notes |
| --- | --- | --- | --- |
| 00:00 | | | |
| 01:00 | | | |
| 02:00 | | | |
| 03:00 | | | |
| 04:00 | | | |
| 05:00 | | | |
| 06:00 | | | |
| 07:00 | | | |
| 08:00 | | | |
| 09:00 | | | |
| 10:00 | | | |
| 11:00 | | | |
| 12:00 | | | |
| 13:00 | | | |
| 14:00 | | | |
| 15:00 | | | |
| 16:00 | | | |
| 17:00 | | | |
| 18:00 | | | |
| 19:00 | | | |
| 20:00 | | | |
| 21:00 | | | |
| 22:00 | | | |
| 23:00 | | | |
Character
Edit
Appearance
Edit
Artist: Ninamo
Kura wears a purple-pink crop top with an "8" over each breast, in reference to her race as a Kraken and cephalopods typically having 8 tentacles. She also wears a matching colored hat as well as a fuzzy armband and a belt with a heart-shaped buckle, worn over a short skirt. Her eyes are also a similar color to her main clothing. Her long hair is tentacle-like in appearance and has an octopus eye perched on the side. Underneath her hair, she wears simple hoop earrings.

Kura's overall appearance can be likened to a gyaru.
Personality
Edit
Her name is based on the Japanese katakana of "Kraken", which is クラーケン.
Kura's species is the "Kraken". Kraken's were legendary sea creatures originally from Norway & Greenland that supposedly grew to sizes of 12-15 meters (40-50 feet).
Had her Skill 3 added in the January 31 maintenance.