Hydra / ハイドラ
No. 0021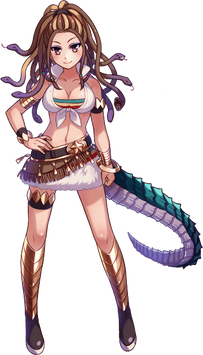 | | | | |
| --- | --- | --- | --- |
| Max Lv. | 30 / 60 | Resource Use | |
| Species | Hydra | Seiyuu | Tojo Hisako |
Stats
| Stats | Base | Lv. 30 | ★ | ★★ | ★★★ | 100% ♥ |
| --- | --- | --- | --- | --- | --- | --- |
| HP | 250 | 398 | 449 | 500 | 550 | +67 |
| AGI | 52 | 83 | 94 | 105 | 115 | +32 |
| ATK | 188 | 299 | 337 | 375 | 413 | +59 |
| DEF | 125 | 199 | 225 | 250 | 275 | +39 |
Skills
| | |
| --- | --- |
| Householder Boast | Attack 1 enemy at 1.5x power |
| Positive Thinking | Reduces incoming damage by 15% |
| None | |
Introduction
Event
Japanese
English
Notes
Introduction

私はヒュドラ族のハイドラよ。

さえない顔だけど, アンタが私の世帯主なのね。 こうなった以上妥協するけど, 私と一緒に暮らせることを光栄に思いなさい。

I am Hydra the Hydra.

Why the glum face, you are my householder. We can compromise if more of this happens, but until then please be proud to live with me.

Hydra uses アンタ(anta) instead of アナタ(anata) which means you, but as in referring to another person as an insubordinate or lower worker. She may very well be insulting the host.
Intro (Memorial)

アンタね, 人のプライバシーを覗かないでよ!
You, don't pry into people's privacy!
Home
| Event | Japanese | English | Notes |
| --- | --- | --- | --- |
| Home | | | |
| Home (≥ 10 times) | | | |
| Profile | | | |
| Refresh | | | |
| Organization | | | |
| Fusion | | | |
| Limit Break | | | |
| Job (Start) | | | |
| Job (End) | | | |
| Meal | | | |
| Request Complete | | | |
Outing
Event
Japanese
English
Notes
Outing (Begin)

Outing (End)

Item Pickup

Encounter

Encounter (Start)

Encounter (Victory)

Encounter
(Total Victory)

Encounter (Defeat)

Attack

Skill

Cheer (Attack)

Cheer (Defend)

Hit

Hit (Critical)

KO

Care
Event
Japanese
English
Notes
Care (Begin)

Touch (Good)
Affection < 30%

Touch (Good)
Affection ≥ 30%

Touch (Good)
Affection ≥ 60%

Touch (Chest)
Affection < 30%

Touch (Chest)
Affection ≥ 30%

Touch (Chest)
Affection ≥ 60%

Touch (Bad)

Hourly Notifications
| Time | Japanese | English | Notes |
| --- | --- | --- | --- |
| 00:00 | | | |
| 01:00 | | | |
| 02:00 | | | |
| 03:00 | | | |
| 04:00 | | | |
| 05:00 | | | |
| 06:00 | | | |
| 07:00 | | | |
| 08:00 | | | |
| 09:00 | | | |
| 10:00 | | | |
| 11:00 | | | |
| 12:00 | | | |
| 13:00 | | | |
| 14:00 | | | |
| 15:00 | | | |
| 16:00 | | | |
| 17:00 | | | |
| 18:00 | | | |
| 19:00 | | | |
| 20:00 | | | |
| 21:00 | | | |
| 22:00 | | | |
| 23:00 | | | |
Character
Edit
Appearance
Edit
Personality
Edit