Info
Centorea / セントレア
No. 0066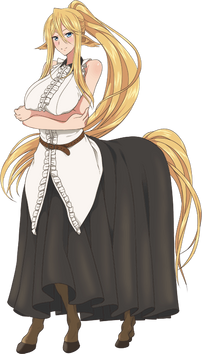 | | | | |
| --- | --- | --- | --- |
| Max Lv. | 50 / 80 | Resource Use | 140 |
| Species | Centaur | Seiyuu | Aikawa Natsuki |
Stats
| Stats | Base | Lv. 50 | ★ | ★★ | ★★★ | 100% ♥ |
| --- | --- | --- | --- | --- | --- | --- |
| HP | 480 | 957 | 1,054 | 1,122 | 1,189 | +253 |
| AGI | 70 | 140 | 154 | 165 | 175 | +29 |
| ATK | 468 | 933 | 1,028 | 1,098 | 1,167 | +216 |
| DEF | 240 | 479 | 527 | 565 | 603 | +89 |
Skills
| | |
| --- | --- |
| I will protect master! | Attack 3 enemies at 1.25x power |
| None | |
| None | |
Quotes
Introduction
Event
Japanese
English
Notes
Introduction

よもや、本当に出会えるとは・・・・・・!


貴方が我が主となる運命の人か!
我が名はセントレア・シアヌス!
誇り高きケンタウロス族なり!

Intro (Memorial)

Home
| Event | Japanese | English | Notes |
| --- | --- | --- | --- |
| Home | | | |
| Home (≥ 10 times) | | | |
| Profile | | | |
| Refresh | | | |
| Organization | | | |
| Fusion | | | |
| Limit Break | | | |
| Job (Start) | | | |
| Job (End) | | | |
| Meal | | | |
| Request Complete | | | |
Outing
Event
Japanese
English
Notes
Outing (Begin)

Outing (End)

Item Pickup

Encounter

Encounter (Start)

Encounter (Victory)

Encounter
(Total Victory)

Encounter (Defeat)

Attack

Skill

Cheer (Attack)

Cheer (Defend)

Hit

Hit (Critical)

KO

Care
Event
Japanese
English
Notes
Care (Begin)

Touch (Good)
Affection < 30%

Touch (Good)
Affection ≥ 30%

Touch (Good)
Affection ≥ 60%

Touch (Chest)
Affection < 30%

Touch (Chest)
Affection ≥ 30%

Touch (Chest)
Affection ≥ 60%

Touch (Bad)

Hourly Notifications
| Time | Japanese | English | Notes |
| --- | --- | --- | --- |
| 00:00 | | | |
| 01:00 | | | |
| 02:00 | | | |
| 03:00 | | | |
| 04:00 | | | |
| 05:00 | | | |
| 06:00 | | | |
| 07:00 | | | |
| 08:00 | | | |
| 09:00 | | | |
| 10:00 | | | |
| 11:00 | | | |
| 12:00 | | | |
| 13:00 | | | |
| 14:00 | | | |
| 15:00 | | | |
| 16:00 | | | |
| 17:00 | | | |
| 18:00 | | | |
| 19:00 | | | |
| 20:00 | | | |
| 21:00 | | | |
| 22:00 | | | |
| 23:00 | | | |
Character
Appearance
A typical centaur, Centorea wears a large white smock with a black dress covering her horse lower body. She also has blue eyes and long blonde hair, a reference to centaurs origins in Europe.
Personality
Her usual speech can be described as old-fashioned.
Trivia
Centorea is 1 of 6 girls in the game originally from the manga, Monster Musume no Iru Nichijou.

Her nickname is Cerea, though she only allows those close to her to call her that.

Centorea's species is the centaur, a mythological creature of Greek origin that was said to have the upper body of a human and the lower body of a horse.
See Also